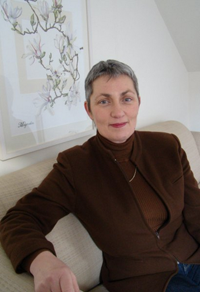 Elizabeth Prendergast
A Dublin-based botanical artist.
Elizabeth has a primary degree in History of Art and Archaeology and an MA from University College Dublin. She has been creating works of art in many media since her days as a fine art student at Crawford School of Art Cork. She is a full time botanical artist for almost a decade and a founder member of 'The Irish Society of Botanical Artists'. Her detailed studies of fresh flowers, drawn from life, are exquisite and unique works of art. Her paintings have been sold to every part of the world and she has a loyal clientele in Ireland.
She exhibits on the East side of Merrion Square most Sundays of the year – weather permitting. Commissions are welcomed. Elizabeth lives in Dublin with her husband David, their daughters Tess and Meg, and Brie the whippet and Winna the brown hound.
One of Elizabeth's signatures is painting on three layers of archival board. The concept of flowers growing over borders creates a three dimensional quality, and allows for the introduction of colour into the background. Elizabeths exceptionally crafted paintings of flowers capture the mood, transience and life force of each plant painted.
Elizabeth is also a published author, having co-written Jubilee Nurse with Helen Sheridan, published by Wolfhound Press in 2012. If you would like to purchase a copy of Jubilee Nurse or would like to enquire about having Elizabeth and Helen speak at your local historical society, please contact Elizabeth directly.